Message from Toru Suzuki
Message
I love doing sports from childhood and sports is always a central aspect of my life.
Beginning with swimming at five years old, I challenged baseball, basketball, handball and so on. When I watched my favorite players play, I thought "I want to become a pro athlete someday."
My goal was to be a player of the Japan national handball team. However, after I met with a car accident, I had my left leg amputated, leading to a restricted life with a prosthetic limb. Because I needed to learn to walk again, the rehabilitation was not easy at all. However, what has supported me is sports that I love during even such a difficult time.
Of course it's fine to have a big dream and set a goal. Rather, please start to find your "favorite thing" and "what you want to do" around yourself.
Profile of Toru Suzuki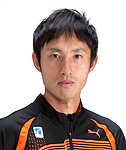 PUMA Japan K.K.
Track and field athlete (Running high jumper)

Belonged to the handball club at junior and senior high school, he won 3rd prize at the National Sports Festival as the Yamanashi prefectural team in Sundai-Kofu high school. Before he entered School of Health and Physical Education, University of Tsukuba by admission on recommendation, he caused a car accident and his left leg was amputated 11cm below the knee.
The meeting with Mr. Usui, a prosthetist and rehabilitation gave him a chance to start running high jump. After 3 month he participated at the Sydney 2000 Paralympic Games. He consecutive won 4 prizes at Sydney, Athens, Beijing and London Paralympics.
He won a silver medal at 2005 Paralympic World cup and Open Europe Tournament.
He became the second high-jumper who achieved 2m00 jump in the world due to the jump at the Japan Paralympics in 2006.